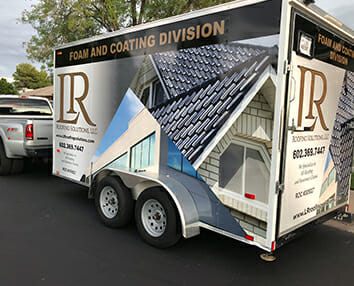 Advertising Benefits of Vehicle Graphics and Wraps
Advertising vehicle graphics and wraps are an excellent way to promote your business, your brand, or an event. However, many people are not aware of the full benefits or ease of using car wraps.
In this article, our printing team at PRI Graphics in Phoenix Arizona highlight some of the unique benefits of custom vinyl vehicle graphics and wraps.
Perfect for Marketing
https://www.prigraphics.com/sign-printing/vehicle-wraps-graphics/As powerful marketing and branding tools for fleet vehicles, custom vehicle graphics and wraps work for you every time one of your trucks, vans, or wrapped cars hit the road. Car wraps with bright colored graphics draw attention, and your vehicles will stand out from your competitors every time.
Car Wraps Are Easy to Install
Decals, wraps and graphics cannot only be installed easily and quickly by a qualified person, but they can also be removed quite easily. This gives you much more flexibility when it comes to continuous marketing changes or upgrades.
Car Wraps Can Cost A Lot Less than A Paint Job
High end paint jobs are expensive and can cost up to three times as much as a custom vehicle wrap. Like many of our clients, you can consider installing vehicle graphics as an investment in your own, personal, rolling billboard. Your advertising on a full car wrap can potentially reach tens of thousands of potential customers.
Wraps Protect Your OEM Paint
You can advertise your business or brand with custom decals and wraps without having to worry about damaging your vehicle's OEM paint job. The vinyl car wraps will protect your original paint from rocks and chips, thereby also improving your vehicle's resale value, since vehicle graphics can easily be removed by a specialist without damaging the paint.
Car Wraps Are Removable
Launching a new local program for your business? Replacing your car wraps or vehicle graphics can be done for a fraction of what it would cost for traditional advertising (in almost any other medium). Applying new vehicle wraps will generate new interest in your business every time your re-wrapped vehicle rolls out onto the pavement.
Local Focus You Can't Buy
Targeting a local market? Don't underestimate the power of local branding with vehicle wraps, signs, and decals. Fleet vehicle graphics and wraps are the perfect form of advertising for business owners that live in the same area that they do business in.
No Downsides to Vehicle Graphics
There are so many good reasons to use a vehicle graphics printer to help promote your brand and products. Visit our Phoenix printers and ask us about car wraps or fence wraps to help promote your business or brand.
We can be reached locally at 602-393-3131 or by calling toll free at 1-877-409-8889. Visit our PRI Graphics printers in Phoenix, Arizona.
Check Out These Additional blog:
https://imagedelivery.net/6LlkszDJdEgF2akh2tODHw/www.prigraphics.com/2020/07/PRI_BenefitsOfVehicleGraphics_FeaturedImage.jpg/w=354
286
354
admin
http://www.prigraphics.com/wp-content/uploads/2023/07/PRI-Logo-Horizontal-Lockup_340x156-1.png
admin
2020-07-02 15:39:01
2023-04-24 08:33:23
Advertising Benefits of Vehicle Graphics and Wraps