In this Ware Malcomb case study we show how our team coordinated directly with the leaders to provide interior graphic solutions that would not only transform their environment, but also showcase the history, culture, and values of their amazing company. Ware Malcomb offers integrated design services so it was a privilege to work with them. Having established our already great relationship with Ware Malcomb over the years, we had the opportunity now to focus on and assist in the branding of their Phoenix offices.
The Printing of History and Culture
Beginning in September 2019, PRI Graphics & Signs partnered with California Casualty (CBRE) and our main contact Niki Ward of Ware Malcomb to complete the interior transformation of their Phoenix offices. Producing a little above 2,300 sq. ft of vinyl wall graphics and a number of dimensional lettering pieces cut from 1" acrylic, PRI handled the setup, printing, cutting, and installation of this entire project.
Branding that Embraces Their Values, Culture & History
Assisting Ware Malcomb with the branding of their offices has been a great experience. This project has really allowed PRI Graphics & Signs to show off some of our interior graphics capabilities, along with producing high quality image prints and precision cutting of dimensional lettering.
Our talented team of print professionals all came together, from pre-flight setup all the way to the end with our finishing department and installation. As this Ware Malcomb case study shows, this project came out just as they envisioned and will allow the team at Ware Malcomb to learn more about their company and to fully embrace the values, culture, and history of this great architecture firm.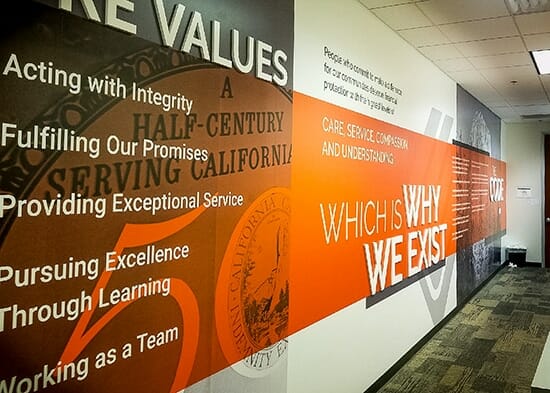 1
3M IJ180 Vinyl Wall Graphics
with Matte Lamination
2
1" White Acrylic with Satin Paint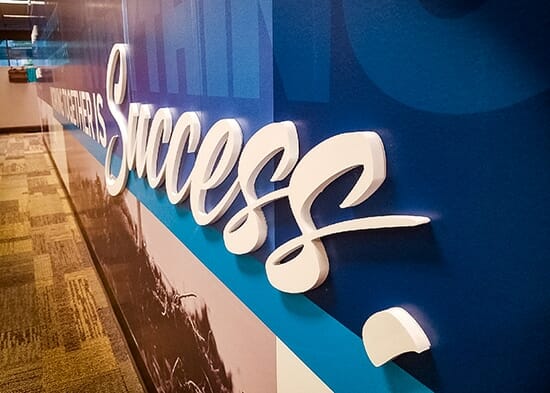 1
3M IJ180 Vinyl Wall Graphics
with Matte Lamination
2
1" White Acrylic with Satin Paint
Interior Graphics Printing
This Ware Malcomb project showcased interior graphics such as vinyl wall wraps, acrylic dimensional letters, and dimensional gatorboard image prints with French cleats. Before installation, our team had the site walls prepped to level 5 smooth and repainted to allow for the best adherence of the graphics directly to the walls. Some electrical plates and thermostats also had to be moved to avoid interfering with the project's design. After everything, the Ware Malcomb offices looked absolutely fantastic and continue to be a conversation starter for any visitors.
Call (602) 393-3131 or toll free at (877) 409-8889 if you would like to learn more on how PRI Graphics and Signs can help you with your next print project. Or, you can contact us below.
GET IN TOUCH WITH A
PRINT PROFESSIONAL