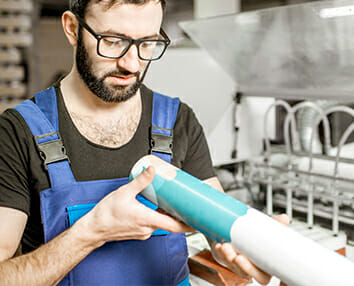 What Are My Vinyl Graphic Printing Options?
There are plenty of vinyl graphic printing options for most businesses. In this post we'll cover several types of large format vinyl graphic materials to help you achieve the perfect look on whatever surface you plan to adhere your vinyl wrap to!
Our large format printing experts here at PRI Graphics offer the following breakdown for the most popular vinyl graphics printing and marketing options.
Reflective Vinyl Graphics Printing
Reflective vinyl graphics are designed to be visible at night when the reflective vinyl graphic is illuminated by light. A similar type of property is used on road signs that are visible when headlights shine on them.
Opaque Vinyl Graphics Printing
Opaque vinyl graphics do not allow light to pass through. Printing opaque vinyl graphics is ideal for covering up old graphics or for temporarily covering an old sign.
Printing on Matte and Gloss Vinyl
A matted vinyl graphic appears flat while a printed gloss vinyl graphic is shiny. Matte vinyl offers the best vinyl graphic printing options for indoors as interior lighting can create "hotspots" on a glossy graphic design. Hotspots make indoor glossy graphics hard to read or to discern the colors or pattern areas where the light hits. Large format gloss vinyl graphics typically have a more vibrant color in the print and look great when used as vehicle wraps.
Brushed Aluminum Vinyl Graphics Products
Brushed aluminum vinyl graphics are designed to give dimensional stability and durability, and looks like aluminum.
Clear Vinyl Graphics Design
Printed, large format clear vinyl graphics are most commonly used on glass or to make the vinyl graphic look like it was painted on the surface. The clear background is distraction-free and doesn't take away from your brand or message.
To learn more about vinyl graphic printing options or what our graphics department at PRI Graphics in Phoenix can do for you, give us a call Toll Free at 1-877-409-8889
Or, complete our online contact form for vinyl graphics printing services.
More Tips – RVinyl has a great article on the Types of Vinyl that can be used for wall art, window graphics and signage.
https://imagedelivery.net/6LlkszDJdEgF2akh2tODHw/www.prigraphics.com/2020/07/PRI_VinylGraphicOptions_FeaturedImage.jpg/w=354
286
354
admin
https://www.prigraphics.com/wp-content/uploads/2021/08/PRI-Logo-02.png
admin
2020-07-02 09:14:44
2022-08-31 08:44:32
What Are My Vinyl Graphic Printing Options?