In this Lee's Sandwiches case study we explore how our team worked alongside David Santos over at Ds3 Designs to put together some amazing print graphics for the always delicious, Lee's Sandwiches. Tackling a mixture of interior graphics, way-finding signage, and exterior graphics, from graphics design to print to final installation, it all came together wonderfully.
CASE STUDY: LEE'S SANDWICHES
Delicious Foods
&

Beautiful Graphics
Beginning in February of 2021, the PRI team partnered with Ds3 Designs to bring together this neighborhood market and cafe's interior and exterior graphics. Sticking to the branding of Lee's Sandwiches, our two teams worked to ensure consistency and quality throughout the design, printing, & installation of this project.
Printing On Different Substrates
The interior signage consisted of the use of materials such as acrylic, bubble board, and vinyl graphics. With some graphics being direct printed, such as the vinyl, and other graphics like the way-finding signs having been brushed aluminum signs with colored acrylic mounted to the surface. Other signage, like the image seen above, were direct printed using 4mm bubble board and mounted with 1-inch standoff screws.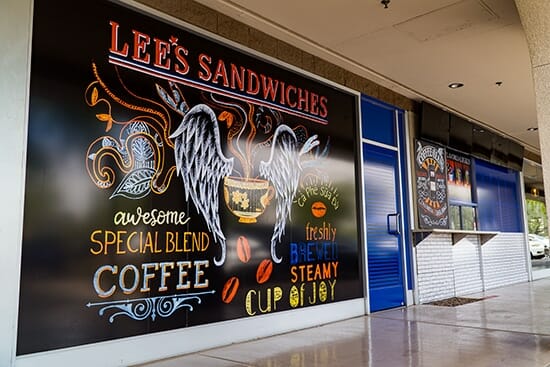 1
3M IJ40C Vinyl Wall Graphics
2
Arlon DPF 8000 – High Tack Vinyl
Wall Graphics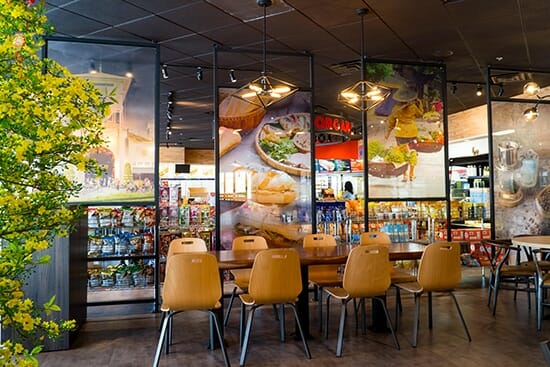 1
1/4" Clear Acrylic with Direct Print
at Opacity for Transparent Look
Clear Acrylic Printing
One of the more unique elements of this project consisted in the clear acrylic prints that we did for the separation wall between the market and dining area (seen in the right picture above). These were done by setting up the art to print a specific way when done at opacity on the clear acrylic, creating a beautiful image that allows light to pass through and pop certain colors of the image.
This project allowed for our PRI teams to coordinate a solid plan to execute exactly what the customer was looking for and to maintain our typical high standards when it comes to print quality, collaboration, and the passion that we put behind every print project.
If you would like to learn more on how PRI Graphics & Signs can help you with your next print project, please contact us below.
GET IN TOUCH WITH A
PRINT PROFESSIONAL