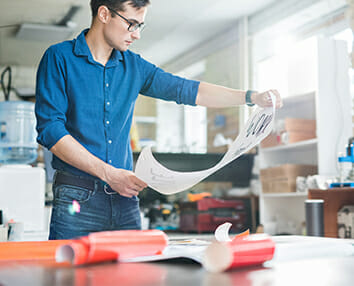 5 Digital Printing and Cutting Tips for Marketing
Digital Printing & Cutting
These digital printing and cutting tips can enhance your business or product marketing efforts. They will provide you with a wide range of different shapes and sizes for products not normally associated with printing.
Spruce up your merchandising or in-store promotional material by utilizing these unique digital printing and cutting tips.
Tip #1
Print and Cut Almost Any Size Imaginable
Today's Large Format Precision Digital Cutting machines have tables as large as 5' x 10' in size, plenty of room to get across your unique marketing message. This also means that multiple smaller items can be cut at the same time on a single sheet of material, providing quick and accurate copies no matter how many you may require.
See our post on Large Format Printing.
Tip #2
Incorporate Layering for Unique Promotions
Position wood pieces of your display, then add vinyl, foam core, or a metal product on top to create a layered look. Whether you want a silhouette or a three-dimensional feel, you can give your marketing efforts an extra boost with the unparalleled flexibility that shows off your highly creative business.
Tip #3
Take Advantage of Multi-Functional Cutting Tool Heads
The tool heads of our digital cutting router are frequently updated to accommodate the widest range possible for cutting materials. There are specific heads for all kinds of digital cutting applications including cutting soft and medium density materials or cutting thick cardboard, wood, leather, and almost every type of material that you can imagine.
Tip #4
Utilize a Much Wider Range of Materials
Today's marketing materials are not just made out of paper or cardboard anymore. There is a whole gamut of substrate material available to address the Different Types of Printing needed including:
Acrylics
Bio-Board
Coroplast
Di-Bond/E-Panel
E-Flute Corrugated
Flexible Vinyl
Foam Core
Gator Board
MDF Material
MDO Plywood
Plastics
PVC-Sintra (Black or White)
Soft Metals
Styrene/PTEG
Ultra-Board (Black or White)
Wood Products
Tip #5
Precision and Accuracy Allow for Custom Shapes
Have a custom shape that you need to be printed and digitally cut? Not a problem! Whether it is labels, custom cut stickers, or other adhesive backed products, our digital printing and cutting equipment can make accurate and precisely located cuts of almost any shape you can dream up.
Want to get started on your unique marketing plan for this year? Call our digital printing and cutting experts today at PRI Graphics in Phoenix , AZ. Call PRI Graphics NOW toll-free at 1-877-409-8889!
Alternatively, you can also email or contact us online. One of our highly trained digital printing experts would be happy to discuss the details of your unqiue digital printing project.
Related Articles:
https://imagedelivery.net/6LlkszDJdEgF2akh2tODHw/www.prigraphics.com/2020/07/PRI_DigitalPrintingForMarketing_FeaturedImage.jpg/w=354
286
354
admin
https://www.prigraphics.com/wp-content/uploads/2021/08/PRI-Logo-02.png
admin
2020-07-02 13:11:24
2022-08-30 15:38:27
5 Digital Printing and Cutting Tips for Marketing