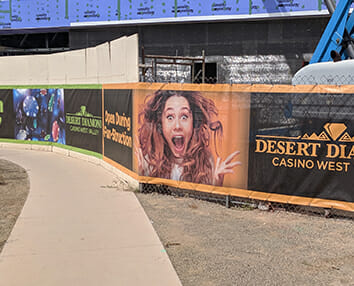 5 FAQs About Fence Wrap Printing
Commonly used as construction site fence wraps, custom fence wrap printing is becoming more and more popular and serves two primary purposes:
As fence wrap advertising to promote a company or event
Or as a fence wrap for privacy
Vinyl fence wrap printing can be applied to fences and scaffolding, as well as to the sides of buildings, and they can be printed with full color images, company logos and your text message. And not unlike vehicle wraps, fence wraps can also act as temporary fence wraps or as more permanent installations.
For more information, see our web page on Printing Construction Site Signage.
Are you looking for fence wrap banners to promote an event, as advertising, or to temporarily disguise a construction project? Or, do you require a more permanent fence wrap for privacy purposes?
Regardless, in this post our Phoenix printers at PRI Graphics will answer the top five questions we get asked most about custom fence wrap printing.
What Kind of Material Can Be Used for Fence Wrap Printing?
Custom fence wrap printing can be accomplished on a variety of materials. While vinyl fence wraps are the most common, we can also print graphics and text on Vinyl Mesh, Polymesh (polyester based materials) and Polyknit. Deciding on which material is most applicable for your situation will depend on a range of factors. Some material completely blocks the view, and other materials have micro-holes to allow for some light penetration and to account for movement on windy days.
What Can Be Printed on Fence Wrap Advertising?
Whether it's fence mesh wraps, fence wrap banners, or vinyl fence wraps you need, you can pretty much print almost anything you want on them. From complex graphical designs to company logos, instructional text, directional signage, full-color photographs, and project development renderings; any kind of printing is possible.
What Suggestions Do You Have for Fence Wrap Printing?
If you are unsure of what kind of fence wraps you need, don't worry. Our Phoenix printers can show you plenty of examples for the types of projects we've completed and help you decide what might be the best way to approach your specific fence wrap idea. Depending on your project, we can also help you decide on if you need wind-slots, mesh fabric, opaque fabric, etc.
Do You Offer In-House Design?
If you already have your graphic design in hand, that's great. But if you need help, PRI Graphics also has a full service in-house graphics design department. Along with custom fence wrap printing we can also help you design and create exactly what you need for your fence wrap advertising. If you are a retailer, ask us about retail store graphics design.
Can My Fence Wrap Be Double Sided?
While double sided fence wraps are not as common, we can certainly print what you need on both sides of the material. Our fence wraps are digitally printed so there are virtually no restrictions; when it comes to colors or design, your banner can be as simple or as complex as you need.
Still Have Questions?
For more information and advice on custom fence wrap printing in Arizona, give our Phoenix printers a call at any time, toll free at 877-409-8889.
Additional Articles on Creative Print Advertising:
https://imagedelivery.net/6LlkszDJdEgF2akh2tODHw/www.prigraphics.com/2020/07/PRI_FAQSAboutFenceWraps_FeaturedImage.jpg/w=354
286
354
admin
https://www.prigraphics.com/wp-content/uploads/2021/08/PRI-Logo-02.png
admin
2020-07-02 14:04:30
2023-04-24 08:33:50
5 FAQs About Fence Wrap Printing