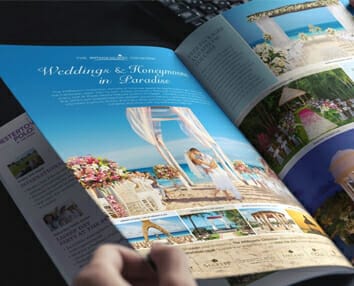 Print Marketing Materials – 6 Ideas to Promote your Business
Professional printing and print marketing materials have evolved a lot in the past few decades.
With better, more affordable technology, plus more printing options and greater competition, it's a buyer's market.
Whether you are in construction, the services industry, or operate a retail business, as a business owner, you now have many more affordable options for print marketing materials to promote your brand, products, and services.
Essential Print Marketing Materials for Start-Ups
If you are a start-up business, especially retail, your marketing strategy will a bit different from that of an established business. With no proven history, your start-up will need to focus on building a recognizable brand. It will also need to convince potential customers to choose your brand of products and services over the well-established competition.
In this post, our Phoenix printers at PRI Graphics will offer 6 affordable and very effective business promotion ideas for start-ups with a focus on highly effective print marketing materials.
Consider your target market and combine any or all of the following:
Business Cards & Loyalty Cards
Brochures & Pamphlets
Flyers, Leaflets & Handouts
Posters & Banners
Coupons & Vouchers
Branded Promotional Products
1. Loyalty Card & Business Card Printing
BUSINESS CARDS – Today there are so many affordable options for printing business cards. Business cards are one of your most important print marketing materials for grabbing attention. As a start-up, most likely your first impression will be accompanied by your business card. They can be single or double sided, matte or glossy finished, coated or uncoated, embossed, have a unique shape, or have whatever unique design you need to promote your image and brand.
LOYALTY CARDS – Many start-up businesses also incorporate a loyalty card into their marketing. Loyalty cards are a great hand-out marketing strategy for attracting and retaining new customers and repeat business. It also rewards your existing customer base.
Business cards and loyalty cards are highly effective print marketing materials that offer some of the quickest and easiest ways to spread the word about your business. You can even print your loyalty cards on the back of your business cards!
2. Pamphlets & Brochure Digital Printing
BROCHURES – Different brochure sizes, folding, and scoring can add a lot of flexibility to your color or B&W brochure printing. Print brochures to quickly generate interest and highlight the benefits of your products and services over the competition.
PAMPHLETS & BOOKLETS – These print marketing materials generally offer a lot more room to provide more in-depth information about your products or services. Ask us about booklet printing.
Brochures and pamphlets have always been very important marketing tools that include your logo, brand, message, testimonials and where you are located. They can both include well written copy supported by colorful images that highlight the features and benefits of your business.
3. Flyers, Leaflets, Mailers, etc.
Ideal for grand openings, mailers, flyers and leaflets, plus other small card handouts are excellent ways to inexpensively promote your brand and business. Use these print marketing materials to spread the word about the benefits of your business and what sets you apart from your competition. According to the United States Postal Service, more than 79% of consumers will check their direct mail for bargains, coupons, and specials. Never underestimate the power of using flyers, leaflets and mailers.
4. Posters and Banners
POSTERS– These print marketing materials are ideal for large graphics and to promote your company message. Posters get noticed and are very popular for promoting specials and/or upcoming events.
BANNERS – Usually printed on large format printing machines, banners can be indoor or outdoor print marketing materials. From pole pockets and grommets to wind slits and sewn-in Velcro hemming, banners are very versatile and reusable. They can be printed on vinyl or mesh and used for short term, seasonal, or annual promotions.
5. Coupons & Vouchers
Most start-up businesses offer potential clients some form of discount voucher or coupon because it works; it's a proven strategy that helps to draw in and retain new clients. Try offering a percentage discount, a 2-for-1 voucher, a free gift, or some form of complimentary service for first-time customers. These types of print marketing materials are conventions that most consumers look forward to when considering a new business. Potential customers are more apt to try something new when the feel they are saving money or getting a great deal.
6. Branded Print Marketing Materials
Today's printing technology allows us to print on all types of materials and products. Branded promotional products are the type of print marketing materials that people love to receive. You can choose to market your start-up business with printed logo pens, thumb drives, coffee mugs, or even something that is wearable. Most branded promotional products are functional and practical and ideal for use as trade show or event gifts.
About PRI Graphics in Phoenix &
PRI Graphics in Phoenix Arizona has been the professional printing company for many start-up businesses over the years. We also have an in-house graphics design team that can help you with the design and layout of your print marketing materials.
Whether your business is in hospitality, professional services, or if you retail printing services, we can help you get the word out. Ask us about digital printing for business stationary, business cards, brochures, flyers, coupons, posters, and whatever else you may need. We succeed by helping you succeed!
For more information about our printing company, or if you still have questions you need answers to, please call us toll free at 1-877-409-8889 or send us an email.
Call us locally at  602-393-3131 for our in-house graphic design services.
Digital Doughnut also has a great article on using Print Marketing Materials to Increase Sales.
You might also like our post on How Booklet and Brochure Printing Are Different.
https://efgz3n2gke5.exactdn.com/wp-content/uploads/2019/03/PRI_PrintMarketingMaterials_FeaturedImage.jpg?strip=all&lossy=1&quality=80&ssl=1
286
354
admin
https://www.prigraphics.com/wp-content/uploads/2021/08/PRI-Logo-02.png
admin
2019-03-15 16:02:48
2022-08-31 09:34:23
Print Marketing Materials – 6 Ideas to Promote your Business