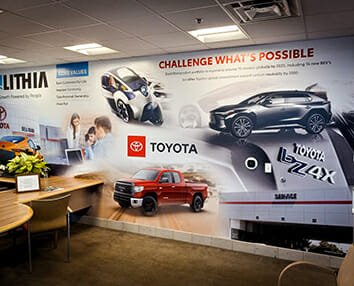 Custom Vinyl Wall Coverings – Benefits
Thanks to modern printing technology and options for decorative vinyl wall coverings, gone are the days of bland and sterile offices and retail spaces.
Most of our PRI Graphics' customers recognize the aesthetic appeal of vinyl wall coverings. However, few are aware of all of the other advantages and benefits of using decorative wall coverings in their place of business.
In this PRI Graphics blog post, we will discuss seven great benefits of vinyl wall covering materials for commercial applications.
1. Create a memorable experience.
Thanks to vinyl wall coverings, businesses can create a true rich experience for their customers and enhance both the interior and exterior look of their business. With commercial wall coverings, you can stand out from the rest of the competition and create a lasting impression so that your customers will remember not only your products and services but also your place of business.
2. Offer customization at a fraction of the cost.
Vinyl wall coverings allow for great customization. For example, PRI Graphics has recently printed and installed a custom wall covering for a hotel on Oahu's North Shore in Hawaii, featuring the work of a renowned local Hawaiian artist. Typically, this hotel chain's interior designers have access to only half a dozen stock wallpaper themes but in this case, the hotel was able to honor the local artist by using his artwork as part of the hotel's décor.
3. Help reinforce your brand.
Many businesses forget to use every square foot possible to create a lasting brand impression. Other stock wallpaper options do not allow most businesses to personalize their walls, whereas custom wall coverings allow for the incorporation of corporate colors, logos, and even slogans.
4. Wall coverings come in semi-permanent and permanent options.
At PRI Graphics in Phoenix AZ, we use a variety of materials and adhesives for our large format wall coverings, which allows for varying degrees of permanence. While some businesses prefer to change their look often with the changing seasons or special events, other businesses seek a permanent wall covering.
5. Economical with excellent cost savings.
Wall coverings can last up to five times as long as paint, under normal usage conditions. Although you may pay a little more at the start, wall coverings can result in savings of up to 30% over time compared to paint.
6. Durable and virtually maintenance free.
Unlike painted walls that must be cleaned frequently to maintain a like new appearance, wall coverings are very durable and require little or no maintenance over the years.
7. PRI Graphics' vinyl wall coverings are made with eco-friendly ink.
For many large format printing projects like custom wall coverings, PRI Graphics uses a latex ink, wide format printer. The latex ink is a better quality ink that is versatile and more eco-friendly because it is water based.
Flooring Inc has some great Accent Wall Ideas that use vinyl.
To learn more about the benefits of custom wall coverings by our Arizona printing company, or to order your own custom wall covering, visit PRI Graphics in Phoenix or Mesa, or call us toll free at 1-877-409-8889.
More Articles About Custom Wallpaper and Wall Coverings:
https://imagedelivery.net/6LlkszDJdEgF2akh2tODHw/www.prigraphics.com/2020/07/PRI_WallCoverings_FeaturedImage.jpg/w=354
286
354
admin
https://www.prigraphics.com/wp-content/uploads/2021/08/PRI-Logo-02.png
admin
2020-07-02 10:12:36
2022-08-31 08:42:30
Custom Vinyl Wall Coverings – Benefits