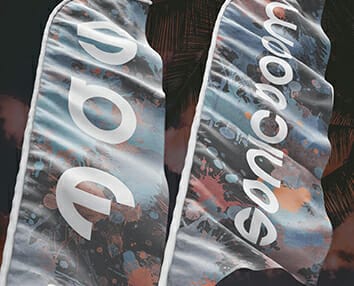 Custom Printing Ideas for Marketing Your Summer Event
Does your business need some custom printing ideas for marketing and promoting your summer event?
Although we live in a digital world where digital marketing has overtaken more traditional forms of promotion, don't underestimate the power of custom printed materials. Custom printing can help you get the word out and help you build better relationships with your market and audience.
Today, too many businesses rely only on their website or social media to publicize an event, not realizing the missed opportunity that traditional marketing and printing can bring.
Traditional print advertising and custom marketing materials can still make a difference and still have a significant impact on your consumers. Custom printing is not only one of the most effective means of communication for businesses, but it is also under-utilized, which means it can help you rise above the crowd and get noticed.
So, if your business is hosting a summer event this year, talk to our printing experts at PRI Graphics in Phoenix Arizona. Below, we offer some custom printing ideas for marketing your event. Try supplementing your online promotional efforts with the following custom printing ideas.
Custom Printed Brochures
Many summer events require significant explanation or visuals to not only help get your message across but also encourage better calls to action. Custom printed brochures are a tactile form of promotion and something that your users can carry with them and read at their leisure.
Printed brochures can be displayed in key target areas, wherever the type of audience you are trying to attract frequents most. You can also use custom-printed brochures as direct mail pieces or hand them out during the event to assist and inform attendees of the event's itinerary. Also, take a look at our PRI Graphics blog entitled Creative Brochure Design Ideas.
Quite often, custom-printed brochures are kept by attendees and suppliers as souvenirs, which means this form of promotional material will continue to work for you long after the event is over.
Custom Printed Postcards
Savvy businesses understand that each customer is unique. That's why many of the most successful businesses offer their clientele a variety of options when it comes to calls-to-action.
Think about it. When you want to contact a business, you now have the option to call them by phone, send an email, fill out an online form, or reach out to them through social media channels like Facebook. It all depends on your preference.
Custom printed postcards not only allow you to provide essential details about your upcoming summer event, they also successfully communicate to your audience every option available on how to get in touch with you. Printed postcards are a brief and attractive alternative to single-sheet mailers.
Custom printed postcards also add a personal touch, especially if you address them directly to the recipient. Your postcard will help them feel included, like you've created something specifically for them.
Custom Vinyl Banners for Interior or Exterior Display
When looking for your printing ideas for marketing, think of selfies. People love selfies, and they always jump at the chance to keep a record of the summer activities they've participated in. Custom vinyl banner printing will not only advertise and promote your summer event; they will also provide the perfect photo-op backdrop for your event's attendees.
If your event is held annually, custom printed vinyl banners can be updated and re-purposed every year. They can also be hung indoors, or utilized outdoors to promote your event, since vinyl banners are weatherproof. You might also like our blog post entitled Vinyl Banner Printing Tips.
Environment Wall Graphics Printing
Although most businesses and event organizers often overlook the importance of environmental wall graphics, they are still an integral part of the success of any event.
Environmental graphics include more than just way-finding systems. They can also include on-site signage, custom exhibit designs, themed graphics, mapping, and identity graphics. Environmental graphics are essentially anything that can help your clientele find their way around the event while embellishing your presentations and brand.
Still Looking for Printing Ideas for Marketing Your Event?
If you would like to know more about custom event printing or need printing ideas for marketing your event or business, we can help. We are experts at enhancing the promotional efforts of our clients.
Call our PRI Graphics Phoenix printers locally at 602-393-3131 or send us an email. We can also be reached by calling toll free at 1-877-409-8889.
https://efgz3n2gke5.exactdn.com/wp-content/uploads/2020/07/PRI_MarketingForSummerEvents_FeaturedImage.jpg?strip=all&lossy=1&quality=80&ssl=1
286
354
admin
https://www.prigraphics.com/wp-content/uploads/2021/08/PRI-Logo-02.png
admin
2020-07-02 15:52:47
2022-08-30 15:13:04
Custom Printing Ideas for Marketing Your Summer Event