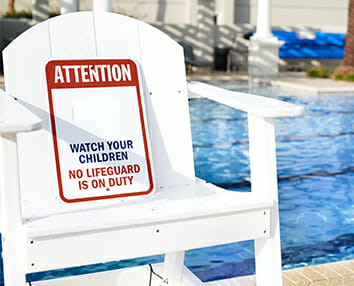 Swimming Pool Safety Signs – What You Need to Know
With summer fast approaching we thought it best to update our blog on printable pool safety signs.
Pool Safety Signs Are A Requirement
When the installation of a swimming pool or spa is likely to involve members of the public, whether it is for residential, commercial, or hotel guest use, Arizona law requires you to install a range of pool safety signs.
Swimming pool safety signage should be displayed in the pool zone so that individuals are aware of the dangers and rules that may affect them while using the pool.

Your first step towards organizing your pool safety signs is to speak with your local sign printing company like PRI Graphics in Phoenix, so you can collaborate with the graphic designer to better understand Arizona's rules and regulations.
Printing large format signs and site graphics is one of PRI Graphics' specialities and they will be able to explain what materials are required to guarantee that the pool safety signs not only meet Arizona's state laws, but will also remain in perfect condition for as long as you have your pool.
Why Safety Signs Are Necessary
With 7 million hot tubs and 9 million public and residential swimming pools in the US, you can quickly see that a standard for rules and regulations governing pool safety signs is a necessity to help minimize and prevent accidental drowning.
Unfortunately, many individuals may not recognize or acknowledge the dangers until they are pointed out to them. The posting of pool safety signage is set out by law to not only protect pool users, but also to protect pool owners like you, against liability claims, especially in these times of mass litigation.
Types of Signs Required
Arizona state law requires that a number of pool safety signs be installed to properly inform the users of all public, commercial and residential pools.
NO DIVING SIGN
For pools that are less than 5 feet deep and do not meet the Arizona administration code, a no diving sign is required that features the international symbol, so that it is easily recognized by people from anywhere in the world, just as major road signs are internationally familiar to all.
DANGER CHLORINE SIGN
As chlorine will almost certainly be used in any swimming pool, a sign showing that there is the potential 'danger' connected to chlorine gas, must be placed on the door of the chlorine room, with letters that are 3 inches or larger.
SWIMMING POOL RULES SIGN
A pool rules sign must be posted within 50 feet of the pool and in a highly visible area for people to read before they enter the pool. Pool rules signage typically includes suggestions like using the toilet before entering the pool and taking a shower before swimming. Other information included might suggest that individuals do not enter the pool when they have a cold, an open wound, or any contagious condition, including diarrhea. For those that may suffer from incontinence, they must wear tight fitting rubber or plastic pants or a diaper suitable for swimming. The pool rules sign will also tell individuals to observe all safety regulations.
SWIM AT YOUR OWN RISK SIGN
Depending on whether your pool is for commercial use or not, it may also be necessary to post a sign that informs users whether the pool has a lifeguard on duty, or not.
Where lifeguards are not on duty, it is highly recommended to post a "swim at your own risk" pool safety sign. Similar rules will suggest (in letters at least 4 inches in size) that children must not use the pool without an adult in constant attendance.
Other pool safety signage to consider might include POOL SAFETY EQUIPMENT SIGN and POOL SAFETY CPR SIGN.
The sign experts at PRI Graphics can assist you with designing and printing the custom pool safety signs you need, and help ensure that your swimming pool signage meet municipal, county and state regulations. You can find more educational materials on this Pool Safely website.
PRI Graphics can also help yo with weatherproof signage or ask us about experiential signage.
For more information on printing pool safety signs call 1-877-409-8889 or contact us online and our printing experts at PRI Graphics in Phoenix will be glad to help you.
Additional Articles About Custom Sign Printing:
https://imagedelivery.net/6LlkszDJdEgF2akh2tODHw/www.prigraphics.com/2020/07/PRI_SwimmingPoolSigns_FeaturedImage.jpg/w=354
286
354
admin
https://www.prigraphics.com/wp-content/uploads/2021/08/PRI-Logo-02.png
admin
2020-07-02 08:12:04
2022-08-31 08:49:48
Swimming Pool Safety Signs – What You Need to Know