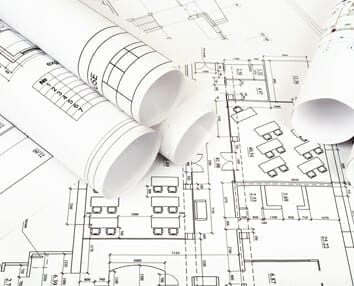 B&W CAD Printing & Document Distribution
A CAD drawing printing service might not be the first idea that comes to mind when the time comes to print and distribute blueprints and other vital information about your construction project. However, overall, a professional CAD printing service can be your most economical choice.
Whether your CAD drawing print sizes need to be 8.5" x 11" or table-sized blueprint reproductions, PRI Graphics' CAD drawing printing service in Phoenix can offer you the speed, economy, and significant quality you are looking for.
Full CAD Printing & Delivery Services
As your finalized construction drawings and engineering prints are completed someone must be tasked with printing dozens of different B&W CAD drawing documents based on the project and the distribution of requests for proposals. Sometimes there can be dozens (if not hundreds) of contractors in numerous cities and possibly even different states that must receive them.
These contractors need to study your blueprints and schematics in substantial detail and prepare proposals related to specific portions of the development which apply to them.
Your next step will be to find a CAD drawing printing service with a whole fleet of printing devices. They must be able to complete all of your blueprints and black and white CAD printing requirements within a reasonable timeframe. They also need to successfully distribute your B&W CAD drawings to every contractor interested in bidding on the project.
PRI Graphics in Phoenix AZ can print any B&W CAD drawing to scale and deliver exact reproductions on time, and on budget, to wherever your project details need to be sent. Reach out to us by email or call us toll-free at 1-877-409-8889 to learn more.
Printing Supporting Documents
Aside from the B&W CAD drawings you need printed, there will probably also be other supporting documents that will need to be printed including:
Specification books
Training manuals
Environmental inspection reports
View this Wiki page of Architectural Reprography for additional information.
In fact, there can be host of other important documents necessary to adequately inform every participant in the process. Participants can range from lawyers and surveyors to the state land department and even surrounding communities potentially impacted by the development.
And don't forget the multiple copies of B&W CAD drawings you will need to distribute to the various branches of the city and state when it comes time to apply for permits. PRI Graphics can ensure that your printing projects run smoothly from conception to completion.
PRI Graphics also offers white ink printing on dark paper.
Phoenix CAD Drawing Printing Service
Whether you need simple CAD layout in black and white for the contractors (so they can submit them to the city or other government agencies for permit purposes), or mylar drawing displays required by city councils to present and discuss with the public, PRI Graphics has the CAD drawing printing service to handle it all.
PRI Graphics is capable of producing all different types of printing including blueprint and CAD drawing with consistency and accuracy and can distribute and deliver your printed materials to all the key parties involved.
Contact the experienced printing professionals at PRI Graphics today and put your mind at ease about printing documents large and small, including blueprints and B&W CAD drawings.
You can reach PRI Graphics locally in Phoenix, at 1-602-393-3131
Or call toll-free at 1-877-409-8889.
https://efgz3n2gke5.exactdn.com/wp-content/uploads/2019/05/PRI_CADprinting_FeaturedImage.jpg?strip=all&lossy=1&quality=80&ssl=1
286
354
admin
https://www.prigraphics.com/wp-content/uploads/2021/08/PRI-Logo-02.png
admin
2019-05-23 09:26:21
2022-08-31 09:32:12
B&W CAD Printing & Document Distribution