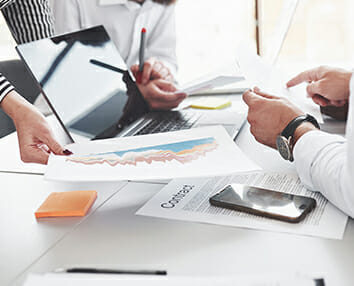 5 Tips for Annual Report Printing
Use your annual report printing to impress your stockholders and potential investors at you next Annual General Meeting.
Our Arizona printing experts have put together these five key design considerations to take your anual report printing plus product specifications, manuals and other printed reports to the next level. These include:
Binding options
Fold out sheet options
Printable report tabs
The right type of paper
Report covers with pockets
Annual Report Binding Options
The type of document binding style you choose for your annual report printing will likely depend on the number of factors. These might include the number pages and durability required, if you will be mailing out copies, and the overall look you want to achieve. Some of the most common types of binding for corporate annual report printing include:
SADDLE STITCHING – This is the most affordable method for binding a booklet or annual report. Saddle stitching uses staples down the middle of the folded papers.
COMB BINDING – This is the most common style for binding an annual report that allows the report to open flat. Comb binding is available in a variety of thicknesses and colors.
COIL BINDING – This is still a reasonably priced option for binding your annual report using a single pre-coiled plastic binding. The report will open flat and easily fold in half.
WIRE BINDING – This is the most professional and durable binding for slick and sturdy looking company annual reports.
Don't know what type of annual report binding you need? Call us toll-free at 1-877-409-8889 and ask our annual report printing and binding experts what they recommend for your report.
Print Fold Out Sheets
Fold out sheets within your annual report are a great way to add extra visuals that will impress. You can also include fold out sheets to include larger spreadsheets or detailed financial information that needs more room than your standard page size.
Printable Report Tabs
If your annual report printing will be lengthy why not add printable report tabs to make it easy to find key sections within the report? Your shareholders and investors will thank you when they no longer have to flip through dozens, if not hundreds of pages to find what they are looking for.
Annual Report Paper Stock
Will your standard white paper suffice or would you like to take your report to the next level using laminated or embossed paper? If your corporate annual report printing is colorful and visual, you may opt for full color bleeds to ensure no unprinted edges of paper exist in the final document. The decision of what type of paper stock to use for your annual report will likely be influenced by how many copies you are making, how many pages are in each report, how heavy and thick you want the finished product to be, and so on.
Report Covers with Pockets
Annual report printing that have report covers with built in pockets are functional places for your stakeholders to store their own notes (after the meeting), or a creative place for you to insert some extra SWAG into the report.
Ask Us About Annual Report Printing in Arizona
At PRI Graphics in Phoenix, Arizona, we work closely with businesses of all sizes to print corporate annual reports, employee manuals, product specifications, and other bound printed documents.
For more information on annual report printing, please visit our manual printing page or speak with our local printers directly by calling our Phoenix printing company Toll-Free 1-877-409-8889.
Column Five Media has a great article worth a read called, 50 Unique & Creative Annual Report Design Examples to Inspire You.
Check Out Additional Printing Tips:
https://imagedelivery.net/6LlkszDJdEgF2akh2tODHw/www.prigraphics.com/2019/05/PRI_AnnualReports_FeaturedImage.jpg/w=354
286
354
admin
https://www.prigraphics.com/wp-content/uploads/2021/08/PRI-Logo-02.png
admin
2019-05-25 09:25:20
2022-08-31 09:11:48
5 Tips for Annual Report Printing