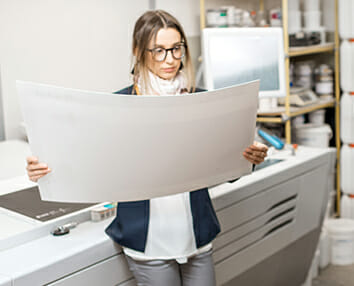 4 Benefits of Document Scanning and Archiving
Why Do Document Scanning and Archiving?
Whether you need it in black and white or in color, document scanning and archiving will provide your company with four key benefits including:
Saving on storage space
Saving you time – better document organization and retrieval
Saving you money – less overhead
Immediate access to all versions (complete with all edits and highlighting)
Less Storage Space Required
Phoenix printers, PRI Graphics, uses small and large format scanners as part of their electronic archiving and records management system. This means that all your important documents, regardless of size, can be captured and preserved in the best possible format for your needs. This electronic document scanning and archiving system will help you eliminate the need for costly storage of actual physical copies while decreasing your company's overhead. We work a lot with construction companies that need to accurate records from the initial start on through to Construction Project Closeout.
Ask us about custom construction sign printing.
Faster Access and Easier Document Retrieval
Since all of your important documents will be scanned and filed according to your specified criteria (by name, date, indexing, and the files and folder system you specify), they will be much easier to locate and access. All your documents will be scanned in high resolution and organized at your discretion. This will allow you to not only find and retrieve them faster, but also print them (if necessary) in hard copy format identical to the original scanned hard copy document. Electronic document archiving means that important documents can easily be available and printed, or shared electronically on CD, DVD, or USB.
Decreased Overhead
By law, all businesses are required to keep a record of all tax documents for seven years. Depending on your type of business, this can be an exceptionally high volume of important documents. In the past, businesses were forced to keep hard copies of everything. All  those hard copies would take up a lot of floor space and the cost of this excess storage would add up quickly, negatively impacting the company's overhead. Today, saving hard copies is an unnecessary expense. With electronic document scanning and archiving, companies can now keep an accurate record of all their important documents without having to keep any hard copies. So, if the tax department does request further information, any needed document can be instantly accessed and printed or shared using this electronic document management system.
Immediate Access to All Document Versions
During the process of doing business the same important document may undergo frequent changes or revisions and pass through the hands of numerous people. For a lot of companies, it is imperative to not only accurately document and archive each revision, but also be able to easily access and retrieve any specific revision as needed. Through every stage of the document's creation every detail, edit, highlighting, addition, or revision can be scanned and archived, and then added to the electronic document storage and retrieval system. Scanning blueprints and document scanning and archiving can be highly cost effective, highly efficient, and for today's modern business practices, it is ideal for document storage and retrieval, as well as for efficient document distribution.
Still Have Questions About Document Scanning and Archiving?
To get the most out of any document scanning and archiving services it will be necessary to carefully plan the document storage and archive procedures. Our experts here at PRI Graphics & Signs in Phoenix, Arizona can help you develop and implement the best electronic document management system for your business.
You can reach us by email or at 602-393-3131,
Or by calling us Toll Free at 877-409-8889.
Here is another interesting article for Creating a Policy for Document Archiving.
https://imagedelivery.net/6LlkszDJdEgF2akh2tODHw/www.prigraphics.com/2020/07/PRI_ScanningArchiving_FeaturedImage.jpg/w=354
286
354
admin
https://www.prigraphics.com/wp-content/uploads/2021/08/PRI-Logo-02.png
admin
2020-07-02 15:10:52
2023-05-11 12:36:08
4 Benefits of Document Scanning and Archiving