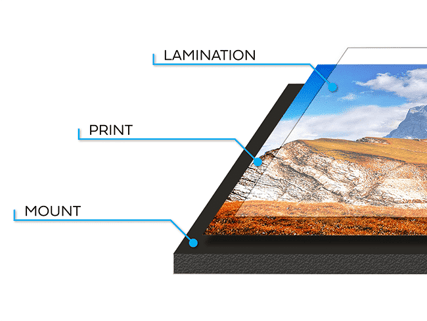 Mounted Prints – Photos, Posters, Art, Signage, Etc.
It is not uncommon to see large format mounted prints on the walls of commercial and corporate offices. However, mounted photos, wall art, and signage can also be utilized for promoting specific events, including trade shows.
What Are Mounted Prints?
Mounting is the process of adhering your paper or canvas prints to a rigid surface or "backing board" for a variety of uses, including framing or wall hanging.

Prints can be mounted on various substrates including wood, foam board, canvas, mat-board, etc.
Once mounted, your photos or graphics will be ready for display and protected from sagging, rippling, or other types of damage.
Transporting and installing your graphics is also much more convenient once they are mounted. In many cases, it makes sense to both mount and laminate your graphics.
Types of Mounted Prints
At PRI Graphics & Signs, we can help you with all types of prints, including, among others:
Mounted Canvas Prints
Mounted Engineer Prints
Mounted Large Format Printing
Mounted Photos
Mounted Posters
Mounted Signage
Mounted Wall Art
Ideal for Businesses & Events
Mounting graphics is not only restricted to trade shows, galleries, or corporate installations!
Mounted prints and graphics are practical and convenient in many business and event applications.
Your signage, posters, or vinyl graphics can be mounted onto a variety of rigid surfaces such as foam core board, styrene, PVC, gator board, and even acrylic signage.
Along with branding, mounted signage is often used in-store to direct customers seeking products and services. Hanging signage and graphics are effective ways to connect with your customers while making use of unused vertical spaces.
PRI Graphics' print professionals are available if you are interested in talking through and discussing your graphics design ideas for you store, event, or commercial space.
Laminate to Protect Your Investment
You can extend the life of your mounted signage or marketing and promotions materials with our lamination services.
Lamination not only protects your prints and graphics, but also enhances the graphics, providing a professional finish that is sure to catch eyes. Consider mounting and laminating your projects to help elevate your marketing designs and protect your investment.
Mounted Prints at PRI Graphics & Signs
Located in Phoenix Arizona, PRI Graphics & Signs (Perkinson Reprographics) can also help you with laminating services for your prints. We service clients state-wide as well as across the United States.
No matter how big or small your print job may be, we can help.
If you would like to learn more about mounted prints or if you have any questions, please or call us toll free at 1-877-409-8889, send us an email, or call us locally in Phoenix at 602-393-3131.
https://imagedelivery.net/6LlkszDJdEgF2akh2tODHw/www.prigraphics.com/2021/06/Blog-Mounted-Prints-1.png/w=650
488
650
David Perkinson
https://www.prigraphics.com/wp-content/uploads/2021/08/PRI-Logo-02.png
David Perkinson
2021-06-23 05:54:27
2022-02-15 09:26:41
Mounted Prints – Photos, Posters, Art, Signage, Etc.