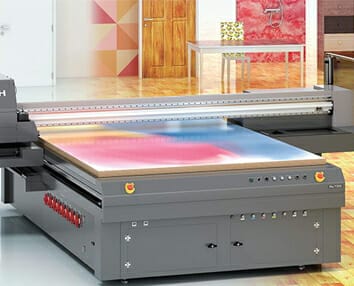 What is Flatbed Digital Printing?
What is flatbed digital printing is just one of the many questions about flatbed printing that we get here at PRI Graphics in Phoenix Arizona.
Large-format flatbed digital printing is simply the use of an inkjet printer to print on a variety of substrates of different sizes and materials that are not normally associated with standard inkjet printing.
Most standard inkjet printers use paper as their primary substrate and print on common sizes like those you would find at your nearest office supply store.
Depending on the printer itself, Flatbed Digital Printers can also print on a wider range of materials including plastic, paperboard, ceramic tile, film, cloth, wood, glass, and even carpet. Flatbed printers can also print on much larger substrates.
Flatbread printing is more environmentally friendly and economical than the solvent-based printing that preceded it. As a result, there is less indoor air pollution during the printing process.
How Does Flatbed Digital Printing Work?
A flatbed digital printer uses inks similar to those of the inkjet printer you may have in your home or office. The main difference is the ink itself, and the curing process.
Flatbed digital printers use ink made of acrylic monomers. Once the ink is exposed to a UV-light source, the monomers cure (or polymerize). Polymerization is a chemical reaction that binds the monomer molecules together. Learn more about UV Ink Curing.
What Thickness of Substrate Can You Print On?
Because they have adjustable printing beds, you can do Flatbed Digital Printing on something as delicate as a sheet of paper or as thick as a wooden door. Some flatbed printers can even print on items up to several inches thick and with a wide range of dimensions, limited only by the flatness of the material and the printing device's capabilities.
When Would I Use Flatbed Digital Printing?
This type of printing is used primarily in commercial applications. Some of these include:
RETAIL SIGNAGE (both inside and out)
EVENT SIGNAGE (for banners, flags, and promotional material)
ON T-SHIRTS (for company promotions)
ON CERAMIC TILES (for decorative or artistic purposes)
In fact, some Flatbed Digital Printers are capable of printing on a huge variety of material and limited only by your imagination.
Ask Us About Flatbed Printing
PRI Graphics in Phoenix Arizona can help you with flatbed digital printing on whatever type of material you need it on. Send us an email or call our Phoenix printers Toll Free at 1-877-409-8889 to discuss your needs, or contact us online.
Related Articles:
https://efgz3n2gke5.exactdn.com/wp-content/uploads/2019/05/PRI_FlatbedPrinting_FeaturedImage.jpg?strip=all&lossy=1&quality=80&ssl=1
286
354
admin
https://www.prigraphics.com/wp-content/uploads/2021/08/PRI-Logo-02.png
admin
2019-05-24 16:13:43
2022-08-31 09:18:43
What is Flatbed Digital Printing?