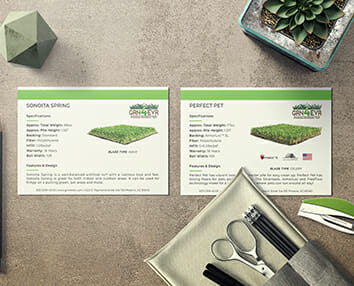 9 Postcard Marketing Design Tips
How to Make Business Postcards Stand Out
In this article, our Phoenix printing experts at PRI Graphics will share nine key postcard marketing tips to help improve your marketing efforts and sales.
Many of these tips can also be used for your leaflets and flyers.
Printing business postcards and sending them in the mail to prospective clients can be a smart marketing move. PRI Graphics in Phoenix specializes in printing business postcards for all types of businesses including accountants, realtors, photographers, insurance companies, fitness centers, and more.
Here are some key postcard marketing tips to consider:
1. Have a specific purpose.
Rather than just routinely sending out business postcards, first, come up with a captive message or special offer. Having a specific purpose before printing business postcards will increase your odds of marketing success. By first knowing your purpose, your message can then be communicated more naturally. You may want to print business postcards to announce a new product or service, advertise a location opening, offer a discount, or remind clients of their next appointment.
2. Personalize the business postcard.
As humans, we like to be recognized. We quickly respond to a personalized letter from a friend or family member in the mail. Conversely, we tend to pass over anything that looks like an advertisement. If you ask the experts for postcard marketing tips they would attest that some of the best and most effective business marketing postcards tend to be personalized. They look like they were written and sent by a friend or family member. Simply put, friendly messages with a less commercial look will often increase the number of replies you get.
3. Stick to the benefits you offer.
With any product or service, it is usually the benefits that sell, not the features. Keep in mind that business postcards have such limited real estate to display your message. Generally, the best business marketing postcard designs will list benefits rather than features or a detailed sales message. Many companies use business postcards early in the sales funnel to generate website traffic or new leads rather than trying to close the deal. They understand the importance of catching the recipient's attention rather than listing all the details that may be required to close the lead.
4. Use striking postcard graphics.
As professional graphics printers we can attest that it's true, a picture "is" worth a thousand words. This is especially true when you have such limited space to market with. Graphics and pictures can evoke specific emotional responses to your message that you can use to your benefit. Use color or black and white graphics to evoke the response you are looking for.
5. Make the message time sensitive.
It's crucial that business marketing postcards motivate the recipients to take action NOW. Otherwise, your business postcard will be pushed aside and forever forgotten. You can encourage immediate action by offering a limited time special offer, or a limited number of appointments. People respond more quickly to marketing deals that have a short expiration date.
6. Stay on topic.
Many marketing experts suggest that your business postcards should immediately get to the point. This is because you will likely have less than 2 seconds to catch and hold their attention. A great thing about business marketing postcards is that the recipient will see your message instantly (they don't have to open an envelope first). So, make sure your message is clear, concise, and stands out right away to catch their interest.
7. Remember to market on both sides of the business postcard.
Remember that there are always two sides to a postcard. You will pay the same postage whether you use both sides or not, so do make the most out of the space you have. Be sure to include your relevant contact information such as phone number, email, website, social media profiles, etc.
8. Timing is everything.
All businesses can benefit from these postcard marketing tips since everyone is competing for the attention of their target markets. Keep in mind that Mondays are always heavier mail days and people are also busier on Mondays. That means your marketing message will be facing more competition for attention, so try to avoid having your postcard arrive at the start of the week. Historically, Tuesdays and Wednesdays typically mean less mail, so take advantage of this better timing and plan for your marketing postcards to arrive mid-week.
9. Use a targeted mailing list.
Once you've spent the time and money on your postcard marketing campaign, it's equally as important that your postcards are being sent to the right people. If you haven't already, determine who your ideal prospects are. For example, your target market could be people who had previously signed up for mailing lists (or to receive more information), or people living within a certain neighborhood or radius of your location. You might also want to consider special interest groups, for instance, purchasing these from mailing list brokers.
About PRI Graphics
We are Arizona printers with two locations, one in Phoenix and another. PRI Graphics offers a full range of printing services including digital, CAD, and large format printing.
For more information about printing marketing mailers and postcards please contact our direct marketing department at PRI Graphics in Phoenix, Arizona.
Phone: 1-602-393-3131
Toll-Free: 1- 877-409-8889
Email: [email protected]
To help you further with your postcard design, here's a good article by Printing Impressions on entitled, 6 Direct Mail Messaging Strategies That Work.
You might also like our related Marketing Blog Articles:
https://imagedelivery.net/6LlkszDJdEgF2akh2tODHw/www.prigraphics.com/2017/08/PRI_PostcardDesignTips_FeaturedImage.jpg/w=354
286
354
admin
https://www.prigraphics.com/wp-content/uploads/2021/08/PRI-Logo-02.png
admin
2017-08-31 20:30:01
2022-08-31 10:23:42
9 Postcard Marketing Design Tips