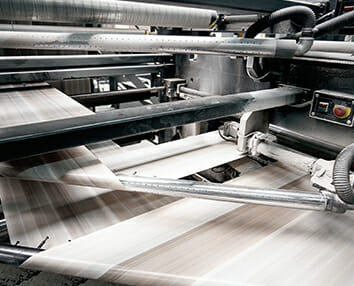 Professional Printer Maintenance Contracts – Benefits
How Much Money Can You Save?
Talk to us about PRI Graphics' Printer Maintenance Contracts and On Site Printer Services for Your Office.
Many medium and large sized companies are discovering the cost saving benefits of organizing a printer maintenance service agreement for on-site printer services in their offices.
Office and equipment managers can actually gain more control over cost, reliability, and functionality of their printers by hiring an outside company to regularly maintain printing equipment.
Here are several benefits to outsourcing with printer maintenance contracts by an authorized service bureau like PRI Graphics in Phoenix.
Focuses Employees' Time on What They Do Best
With PRI Graphics, a maintenance contract gives you the flexibility for on-site printer service and maintenance rather than having to rely on an employee to find the time to divert to the fixing or trying to repair scanners or printers. If the employee is too busy you may have to call an outside technician, which is always more expensive over the long term. Plus you may not have an employee skilled at maintaining your office printers and the down time can be much greater while you wait for a third party repairman.
Protecting Your Investment in Office Equipment
A wide range of IT and office printing equipment is a necessity to the operation of most businesses, yet many business owners feel the underlying pressure that these investments are designed to only last a few years and amortize quickly, in part because technology updates so quickly. You may think your printing equipment is out-of-date as soon as you take it out of the box but that may not be the case.
In reality, an annual on-site maintenance program is the most cost-effective and best way to protect your printing equipment investment. Printer maintenance contracts ensure regular service checks are done to help extend the life expectancy of your printers without the need to upgrade every couple of years.
Improving the Reliability of Your Printers
With all modern printing equipment, the more they are used, the greater the possibilities they will develop issues or even break down far sooner than expected. Regular inspection, servicing and ongoing printer equipment maintenance will maximize efficiency by reducing the frequency of breakdowns and increasing the life expectancy. Over the long run, printer service plans not only keep your printing equipment running at their optimum, but also cost less – and that's the bottom line in business.
Detailed Printer Equipment Service Log
PRI Graphic's printer maintenance contracts provide detailed service logs with specific details of the ongoing on-site maintenance of your office technology. In many cases, you will be able to simply call our printer technicians at a moment's notice and based on the service work that has been done our technicians may be able to help you out over the phone. You will always have access to our skilled technicians, and get the help you need when you need it. Most often, we are able to assist over the phone without the need for an on-site service call. In many cases, your printing equipment can be up and running sooner, helping to keep your productivity at its best.
Matching Fixed Costs against Income
For the majority of businesses, an on-site equipment maintenance contract allows them to set the overhead cost of their printer maintenance for the foreseeable future, which gives them the advantage of planning expenses against income and knowing that expenditure is fixed during a specified period.
Scheduling Regular Service Maintenance
A PRI Graphics' printer equipment maintenance service contract will ensure that all your equipment maintenance is carried out at the right time. Many businesses naturally have the tendency to forget about regular maintenance when it gets busy or when staffing cuts are made. You may not even think about servicing your equipment or you may think you are saving money by not taking the time to check. In reality, there is more likelihood that you will spend more money in the future because of your failure to maintain your equipment over the longer term.
Is a Printing Equipment Service Contract Right for You?
Maintenance contracts and on-site equipment services provide you with flexibility and reliability, while fixing the cost and ensuring that your printers and other office equipment are always ready to serve your business every single day of the year.
Did you know that PRI Graphics is an authorized bureau for Canon, OCE, WideTek, KIP, and HP Equipment? Our technicians have a turnaround time of 4 hours and our flexible equipment maintenance contracts can be based on your preference of materials, time, or, if you wish, all-inclusive.
To learn more about PRI Graphics' Printing Equipment Service & Maintenance contracts call our printing experts in Phoenix Arizona directly at 1-877-409-8889 for a personalized needs assessment.
More Cost Saving Articles:
https://imagedelivery.net/6LlkszDJdEgF2akh2tODHw/www.prigraphics.com/2020/07/PRI_PrinterContracts_FeaturedImage.jpg/w=354
286
354
admin
https://www.prigraphics.com/wp-content/uploads/2021/08/PRI-Logo-02.png
admin
2020-07-02 11:58:42
2022-08-31 08:20:47
Professional Printer Maintenance Contracts – Benefits